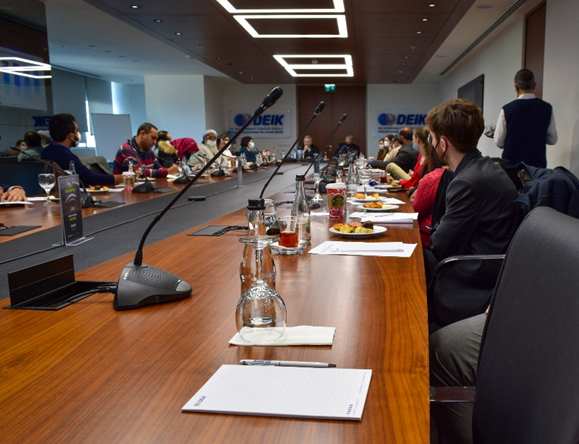 On December 1st, our third program day, the Foreign Economic Relations Board of Turkey (DEİK Turkey) invited us to a joint meeting at their head office in the heart of Instanbul.
Dr. Mustafa Cetin Gumusoglu, who is the DEIK Turkey-Pakistan Business Council Coordinator, and Halil Kulluk, the chairman of the Turkey-Finland Business Council, welcomed us and introduced us to further delegation members.
Both emphasized their excitement about our Recypher project as a sustainable strategic bridge between Pakistan, Germany and Turkey and highlighted the interest and capacity of DEiK to serve as a link for such collaborations.
This speech was followed by a presentation from Nevin Cizmeciogulları, the Country Director of IDC Turkey, an international market research and consulting company, who gave us insights into the increasing relevance of cybersecurity within companies as well as a business sector of its own.
Showing data on the role of cybersecurity in different countries and digital transformation which was further accelerated by the global pandemic, she emphasized what an opportunity and at the same time a challenge cybersecurity offers for the industry. With an increasing number of people working remotely, the trust in digital companies is a vital requirement that needs to be addressed.
To overcome these challenges, it is fundamental to form collaborations. Not only between different companies, but also between industry and research projects such as Recypher. This was the central message of the meeting.
In addition to official talks, we also had time for personal exchange with the delegation members, asking and answering questions and that is exactly what enables and promotes the desired collaborations.